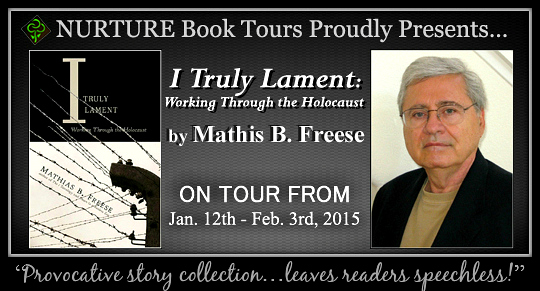 If the murder of millions is something we must become numb to, in
order to persevere, then I disagree.
It is as if memory must be dismissed for present life and living.
Need it be? Granted, I do not think about a serf in twelfth-century
France. Perhaps I should, but I don't. Our species itself has a short
attention span. Indeed, why do we practice the art and science of psychotherapy,
for example? It is not to put things behind us as much as
to bring them forth, to evoke experience. Real therapy, healing, is a
question asked of the species as revealed in an individual member.
I detect in this question an annoyance, in that Jews are given a certain
latitude and then no more; as if we have heard it all before. The
question bespeaks subliminal impatience, perhaps even anti-Jewish sentiment.
If yet another book on word processing, financial self-help,
travel, or cooking appears on the shelves of your local bookseller, that
is fine. But another book on the Holocaust, whether from Christians or
Jews, evokes a sigh of "enough." Why is this? I write to make you feel
my impressions of the world; it is my rib on the barbie and I grill it in
my own special way. It is the writer's job to do that. The Holocaust, as
far as I am concerned, is the single most important human event in
world history. It created a lens through which we can understand ourselves
culturally, anthropologically, and sociologically. We avoid knowing
ourselves, often fleeing more from the light than the dark. All the
great deprogrammers have been assailed, even murdered, Christ for
one.
In his clarion call, Jefferson said it best: "I have sworn upon the
altar of God eternal hostility against every form of tyranny over the
mind of man." Thrilling, isn't it? And enlightened! Freud searched the
unconscious, in his own rational way, to try to set us free. Face it—
great slabs of self are cut off from our awareness. Most of what we do
is done and decided for us, unconsciously. You don't really believe you
are in control, do you? Our species is that early grunting creature that
moved from out of the sea-slime to land, in gasping epochal leaps, until
it became a creature of terra firma. We are aware only in spasms,
twitches. Our circuitry is that way; we are hot-wired.
Since you are not a survivor, a witness, why do you feel you can add anything
more—or new—to the Holocaust literature?
I don't have to be a witness to anything in order to exercise my own
humanity, either as a holder of opinions or a writer. In fact, and with all
due deference, why would a survivor necessarily have a grasp on what
happened? We spend our entire lives living, often very poorly, and very
often end without any set of rules, conclusions, or principles, much less
wisdom. I write about the Holocaust for it is an Amazonian cataract of
great force, of thundering essence, when we examine human behavior
at its most basic. I have every right to engage. Indeed, the question
should be: Shouldn't every human alive, and yet to live, have a br
spectrum of ideas and views about this species-shaking event of the
twentieth century? We are all witnesses to the Holocaust. This is one
of the essential themes of my work. It should be dealt with until the end
of historic mankind on this planet, until its lessons become in some
implacable and evolutionary way part of our germ plasm.
We know this much: human beings can be morally inhibited—and
since we are not genetically wired not to kill our own, the only salvation
is in the word, in memory, to stave off our id impulses. This is why, for
the Jew, memory is essential, probably one of the greater gifts of
Judaism to the world. Jews, to use the vernacular, do not "put things
behind them" and "get on with it." The Jew metabolizes life, records
and registers it. Memory kept the Jew as one during a two thousand year
diaspora—for indeed something indelible and lithographic had
happened in Sinai that the Jew chose not to forget. This is the great and
remarkable commentary on the history of the Jew. Metaphorically we
are all Jews, if we allow that to be.